Lisa Ainsworth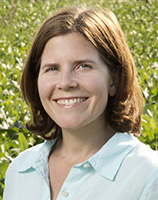 IGB Faculty
http://www.life.illinois.edu/ainsworth/
Rising population size, changes in land-use, introduction of novel and invasive pests and diseases, and global changes in climate and atmospheric composition pose significant challenges to maintaining and improving future agricultural production and global food supply. Two global changes that directly affect crop productivity are rising carbon dioxide concentration ([CO2]) and rising tropospheric ozone concentration ([O3]).  While elevated [CO2] stimulates photosynthesis and productivity of C3 crops, rising tropospheric [O3] negatively impacts photosynthesis and subsequent growth and production. The focus of Dr. Ainsworth's research is to understand and integrate the molecular, biochemical and physiological responses of plants to global change.
Andrew Leakey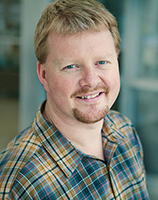 IGB Faculty
http://www.life.illinois.edu/leakey/
Dr. Leakey's research program is focused on improving mechanistic understanding of: 1) Plant responses in natural and agricultural ecosystems to global environmental change; 2) Adaptation of food and fuel crops to global environmental change; and 3) Sustainability of biofuel feedstocks. This will enhance understanding of how the environment impacts ecosystem goods and services including biodiversity, productivity, water cycling and food supply.
Adrienne Gulley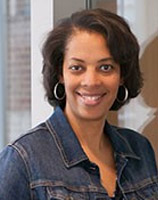 Camp Coordinator
Adrienne Gulley is an IGB Outreach and Communications Specialist. She received her B.S. and M.S. in Agricultural Communications from Southern Illinois University Carbondale. As the Outreach Specialist, Adrienne helps to promote the cutting edge work conducted at the IGB and a better appreciation of science in general. She collaborates in managing the Fox Family Innovation and Entrepreneurship Lecture series, "Genomics for" workshops, Pollen Power day camp for middle school girls and the Mammoth ROCHSS project." Prior to arriving at the IGB, Adrienne was the Outreach Specialist for the Illinois-Indiana Sea Grant College Program on the campus of the University of Illinois Urbana-Champaign where she focused on water quality issues. Adrienne will begin pursuing a PhD in Education Policy, Organization and Leadership with a specialization is Social Sciences and Education Policy in Fall 2018 at the University of Illinois.
Claudia Lutz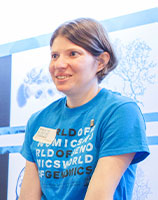 Camp Coordinator
Claudia Lutz is Outreach Manager and research assistant professor at the IGB. During her graduate training in the Neuroscience Program at the University of Illinois, she investigated the genomic basis of structural neuroplasticity and learning in the honey bee. She completed her Ph.D. in the laboratory of IGB Director Gene Robinson in 2012.
In the past seven years working in the IGB Communications and Outreach groups, Dr. Lutz has written institutional press releases, printed publications, materials for in-person outreach events, online course curriculum, and other publicly accessible science content, often in collaboration with designers, artists, and other media specialists. Dr. Lutz has also served as a presenter or mentor at a broad range of community science events, including talks for hobbyist beekeepers and other specialty interest groups; hands-on neuroscience and genomics open-house events for children and families; activities for local in-school and after-school programs; and activities on pollinators for past Pollen Power camps.
IGB Core Facilities Staff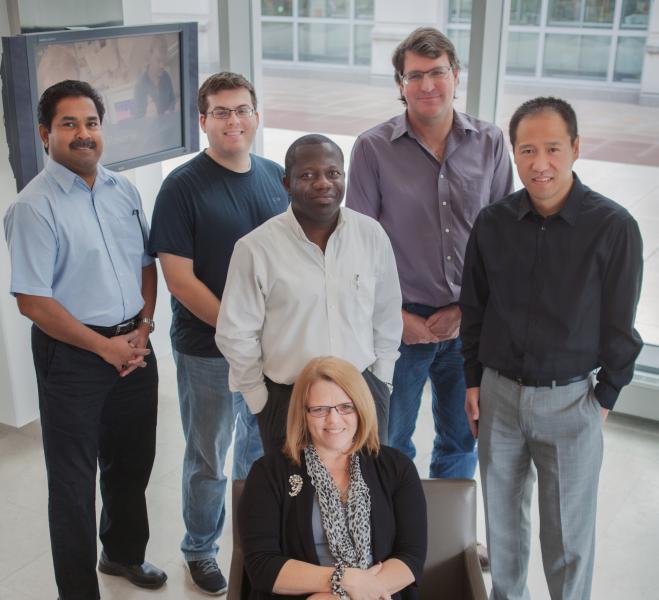 http://www.igb.illinois.edu/core
The Core Facilities at the IGB is a state-of-the-art resource for biological microscopy and image analysis. The core mission of the facility is to provide IGB researchers, as well as faculty, post-docs, and students from across campus with the tools and expertise to meet their imaging goals. The Core Facilities trains over one hundred new users a year on one or more instruments.