2019 CAMP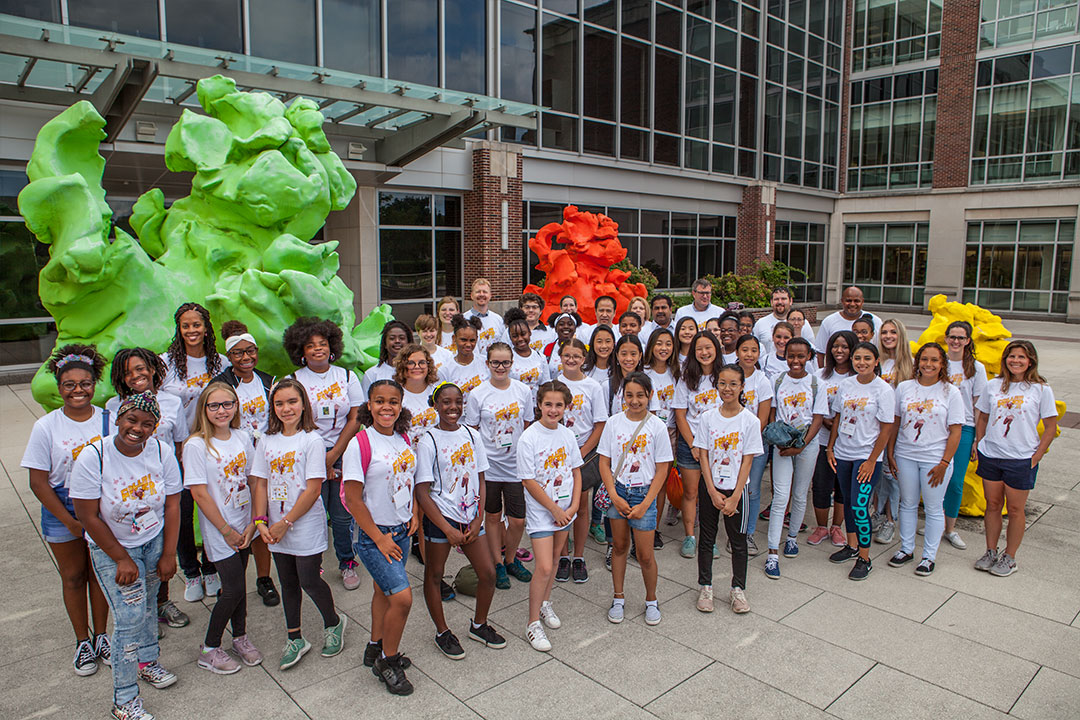 2018 CAMP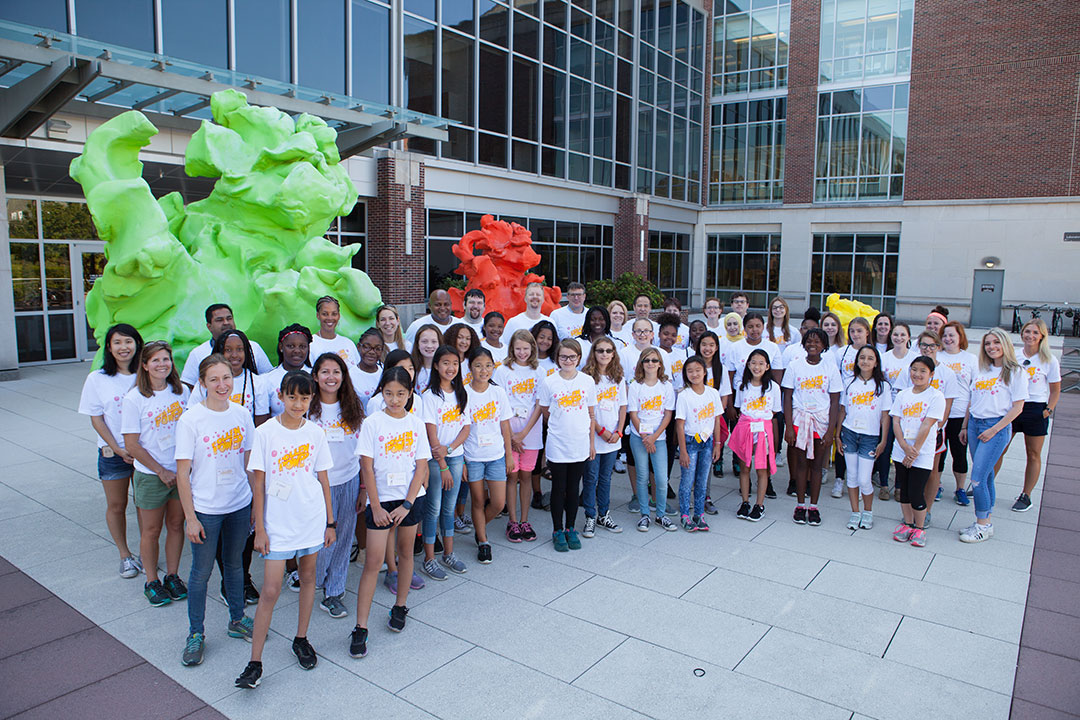 2016 CAMP
2015 CAMP 2014 Camp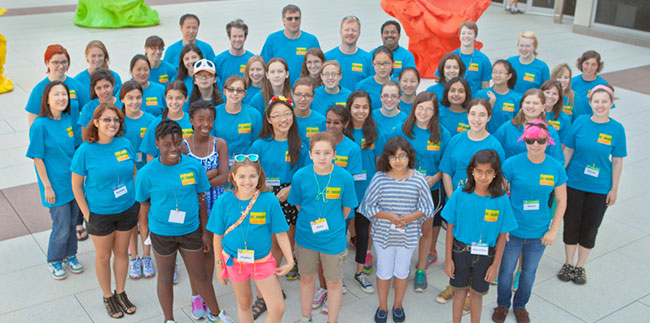 2013 Camp
SoyFACE 
Campers visited the SoyFACE (Soybean Free Air Concentration Enrichment) facility. They learned about research conducted at the facility involving the use of carbon dioxide and ozone to simulate potential future climates. Campers also pollinated their own corn to produce a hybrid ear with their choice of different colored kernels. 
Pollen News Report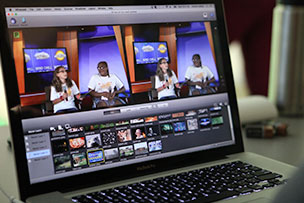 Campers wrote a script and selected images to create their own "weather report" forecasting/backcasting how pollen levels were in the distant past and the near future. A practice session allowed campers to demonstrate how the audio and visual effects worked with the green screen, and the final video was shared with parents at the end of the week. 
Pollinatarium 
Campers visited the University of Illinois' Pollinatarium (a science center dedicated to flowering plants and their pollinators) for a tour. Campers caught and identified insects, tasted varieties of honey, learned about bee anatomy, and viewed a hive.
Fab Lab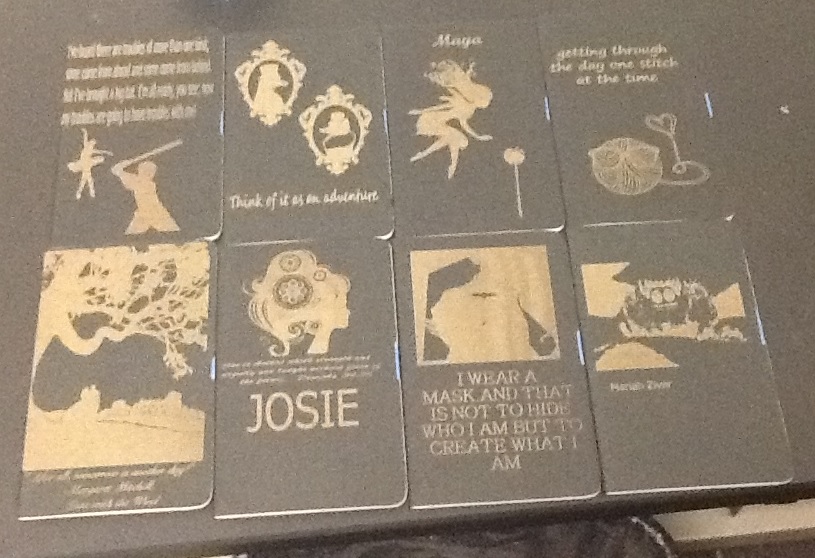 The campers made a laser etched journal with their own design at the Champaign-Urbana Fab Lab. While the journals were being printed, they learned about maker spaces and equipment including 3D printers, vinyl cutters, and sewing machines.
Greenhouse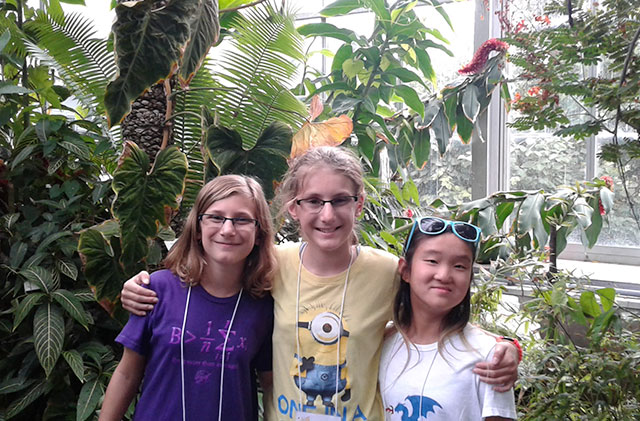 Campers took a tour of the University Plant Biology Greenhouses to see the different growing environments and a wide variety of plants on display. Greenhouse staff also set up a hydroponic system for the campers.
Pollen Identification
Pollen Power campers competed to identify as many pollen types as possible using Nanozoomer slide scanning system data.
Fiber Flower Lab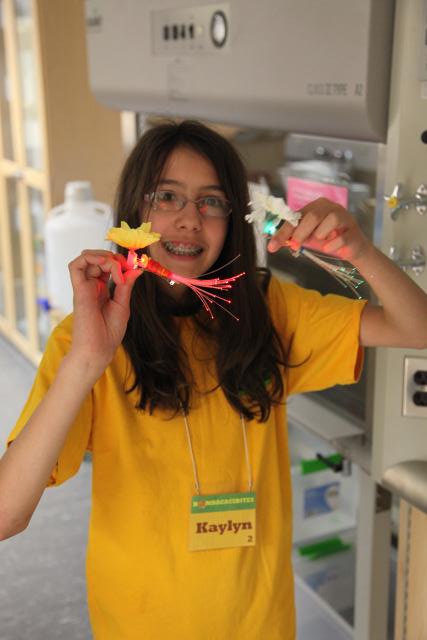 Campers created a glowing flower hair piece while learning about fiber optics and LEDs. 
Pollinators Lab
The campers learned about interactions between pollinators and flowers. The girls were able to see how pollinators' mouths determine how they collect nectar. Campers created their own "super flower" in clay that would bring their ideal pollinator. 
Photo Scavenger Hunt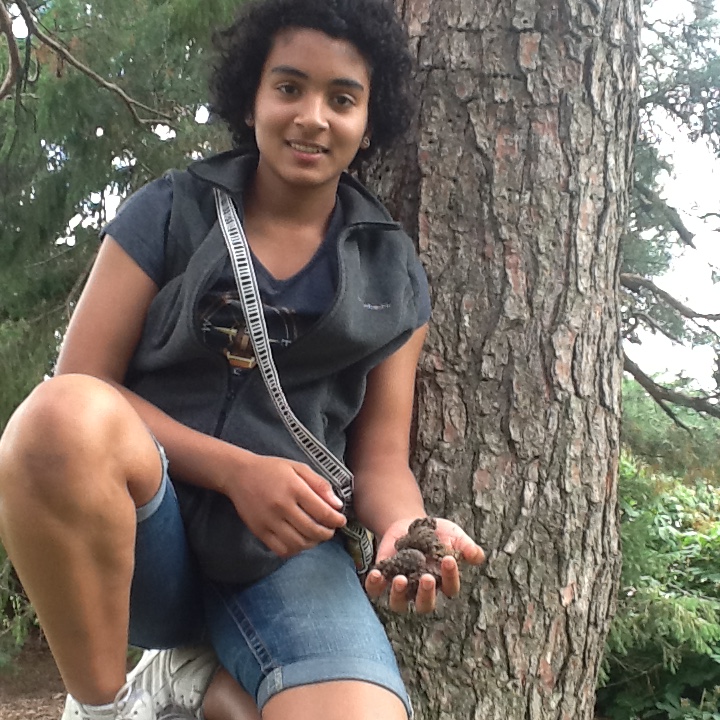 Campers followed clues to find and take pictures of objects related to what they'd learned at camp. Points were based on quality and creativity. A camper from the Spruce Group found their team's "flower," a pine cone! 
Silk Tube Dissecetion 
Under a dissecting microscope in the Core Facilities, campers watched corn silks grow.
Confocal Microscope
Each group of five to six campers is assigned a specific pollen grain. The campers created a 3D data set of their group's pollen grain using the Core Facilities' confocal microscopes. This data was later used to print a 3D model at the Fab Lab. Pictured (clockwise, starting at the top) is sunflower, cattail, evening primrose, and spruce pollen. 
Imaris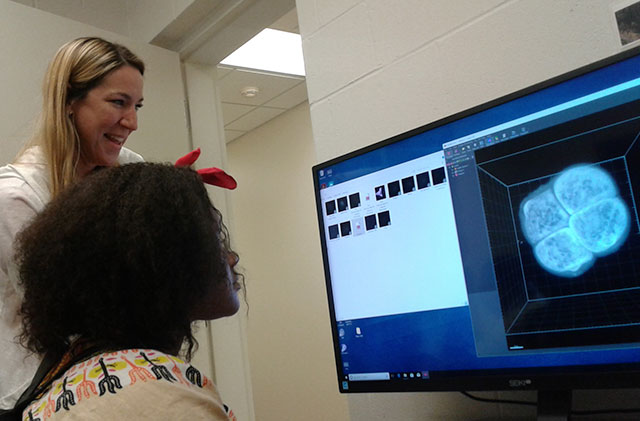 Campers visualized the 3D surface of pollen grains using the confocal data from the IGB Core Facilities. This data allowed the campers to make a video of each pollen. 
Optics Lab
The campers learned about ray tracing and built their own microscope. Faculty members used prisms and dry ice to demonstrate how light can be manipulated. 
Pollen from the Past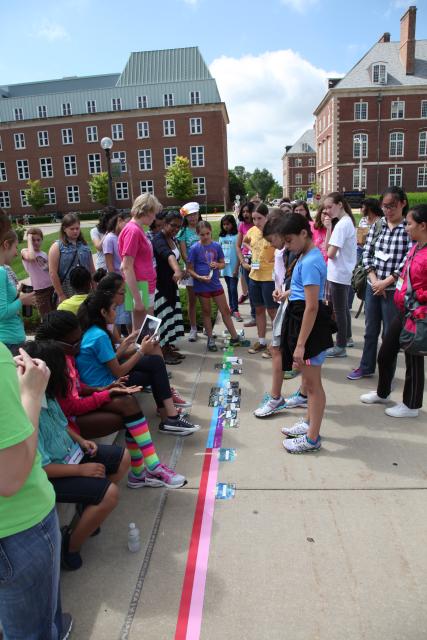 Dr. Surangi Punyasena talked about ancient pollen, and helped the campers create a timeline through different periods while they discussed what pollen was like in each period. 
Pollen Biology
Dr. Lisa Ainsworth talked about what pollen is, why it's important, and why she chose to study it. Groups simulated pollinating a flower with the pollination game. 
Climate Change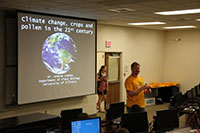 Dr. Andrew Leakey gave a talk about climate change and how it affects our world. Campers also watched a video about where carbon dioxide is produced and how it affects the atmosphere.